Member, Travancore Cochin Legislative Assembly (1954-56),
2nd KLA [Chalakudy-Reserved-INC],
4th KLA [Chelakkara–(SC)-Congress(R)],
5th KLA [Chelakkara–(SC)-INC], 6th KLA [Chelakkara–(SC)-INC],
7th KLA [Thrithala–(SC)-INC], 9th KLA [Vaikom-(SC)-INC].
Son of Shri Karappakutty; born on 20 June 1927; Wife: P. C. Rugmini; 1 Son, 4 Daughters.
Intermediate Course Completed, Training Course in Khadi & Village Industries;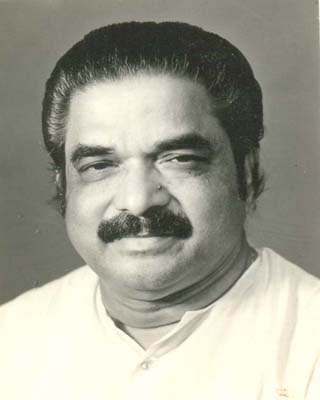 Other Positions Held and details:

Minister for Harijan Welfare and Irrigation from 11-04-1977 to 25-04-1977 & from
27-04-1977 to 27-10-1978, Minister for Transport from 24-05-1982 to 29-08-1983; Chairman, Committee on the Welfare of SC/ST (1973-74) & (1979-81).

Chief Whip, Congress Legislature Party; General Secretary and President, State Depressed Classes League; Director, D.C.B., Trichur; Member, Calicut University Senate; Organising Secretary, Kerala I.N.T.U.C.

Expired on 31-08-2000; Obituary made on 21-12-2000.